ECAS 650 / TT
ECAS 650 shrinkwrapper with welding bar is an automatic machine that complements production lines of bottles, cans, boxes, jars, spray cans, etc.

The equipment's main advantages are easy operation and great versatility. Consequently, this machine ensures reduced format change times and minimized polyethylene reel replacement times.

ECAS 650 is the best cost-benefit-performance combination available within the market.

TECHNICAL FEATURES


Standard Basic Equipment
Text display with programming, pack counter and stop message functions.
Programmable memory command.
Hot chamber welding with digital temperature control.
Welding bar movement (upper and lower) pneumatically operated with safety devices.
Intelligent polyethylene feed, with programmable lengths and centralized printed film option.
Cutting-edge electronics of this equipment renders it unique, thus ensuring both flexibility and reliability.
Production speed adjustable up to 25 pack/minute.
Technical Data
Production output: up to 25 pack/minute.
Electric feed: 3x380 V. +N -50/60Hz.
Installed power: 2Kw.
Compressed air pressure: 13 l/cycle.
Approximate net weight: 850 kg.
Reel maximum diameter: 300 mm.
Reel maximum width: 600 mm.
Polyethylene thickness: 60 to 150 u.
Optionals
Single lane cardboard pad dispenser.
Wrap around tray dispenser.
Centralized printed film feed.
Special conveyors for product input and pack output.
Accumulation table at 90º.
Stainless steel version.
*Specifications subject to variation without prior notice.
ECAS 650 / TT LAYOUT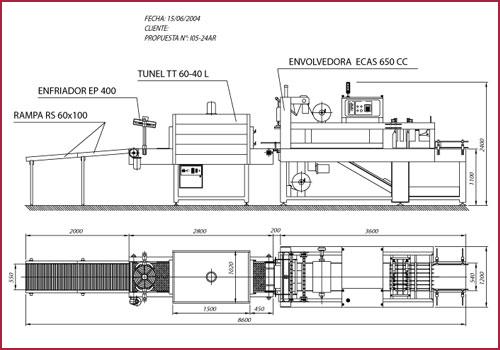 VIDEO